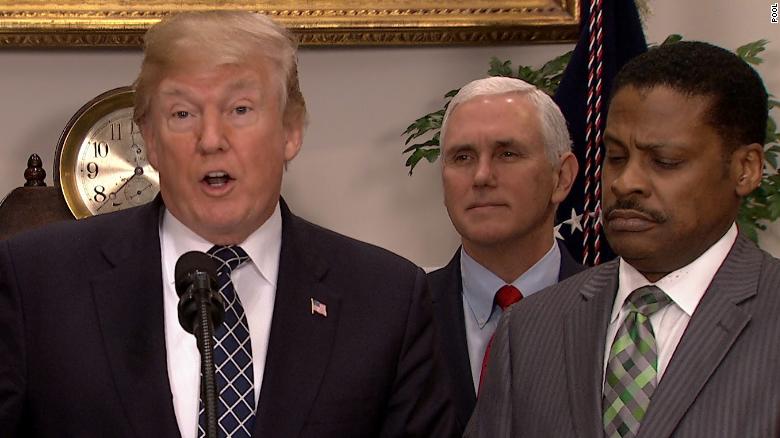 "Why are we having all these people from sh*thole countries come here?" he reportedly asked.
Durbin, the No. 2 Democrat in the Senate, called the White House to tell Trump that a bipartisan group of senators had struck a deal to put Dreamers on a path to citizenship, beef up border security and take other steps to change immigration laws.
The president was referring to African countries and Haiti, and then suggested the USA should welcome immigrants from places like Norway, whose prime minister met with Trump on Wednesday.
DACA, or Deferred Action for Childhood Arrivals, is the law that gave residency status to people who were brought to the country illegally. The President and all those attending the meeting know what I said and how I feel. I could tell you how I have spent an inordinate amount of time and energy, throughout my life, educating people about Haiti and disabusing them of the damaging, incorrect notions they have about the country of my parents' birth.
He added: "I am all the more dismayed by these statements that the United States is a unique example of the contribution of migration to national construction based on the values of diversity, tolerance and opportunity". But instead of winning Trump's support, as they had expected, the president launched into a broadside against immigration from Haiti and Africa. The Post included El Salvador on its list.
The government of Haiti said in a statement it was "deeply shocked and outraged" by Trump's remark - and called it "racist".
"You can not dismiss entire countries and continents as "s--holes", whose entire populations, who are not white, are therefore not welcome".
African politicians and diplomats labelled U.S. President Donald Trump a racist on Friday after he was reported to have described some immigrants from Africa and Haiti as coming from "shithole" countries.
Trump's comments were also condemned by a group of African ambassadors to the United Nations, who demanded a retraction and apology.
The comment "truly flies in the face of accepted behaviour and practice", said Ebba Kalondo, spokeswoman for AU chief Moussa Faki.
President Donald Trump has expressed frustration over efforts of some USA lawmakers to protect immigrants from Haiti and African countries, asking why America should accept citizens from "s***thole" countries, triggering protests.
"We have to show the world that this president does not represent the feelings of most of the American people", they said in a statement.
The government of Botswana issued a statement on Friday, condemning the remarks, calling them "irresponsible, reprehensible and racist", and urging other nations to take a stand against Trump's remarks.
Trump was widely derided previous year after twice referring to Namibia as "Nambia" at the September meeting. "Ours is not a shithole country".
Many Africans reminded the United States of its historic role in the continent's woes. "There is no other word one can use but 'racist, '" United Nations human rights spokesman Rupert Colville told a Geneva news briefing. "I want you to keep in mind this is an actual quote from the actual president of the United States".
"In the course of (Trump's) comments, he said things that were hate-filled, vile and racist", the IL senator said Friday.