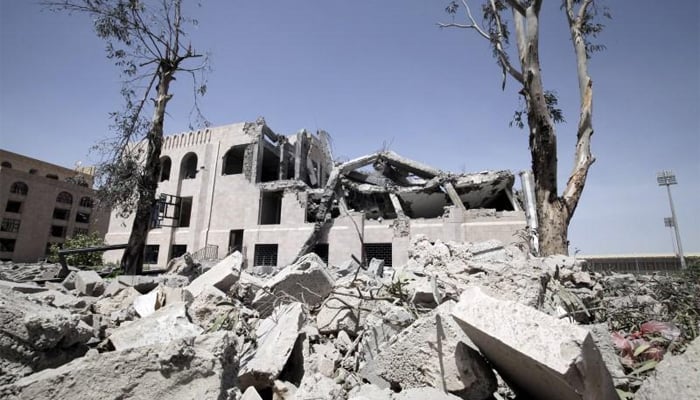 The coalition destroyed a boat carrying explosives as it headed toward the tanker on Saturday, coalition spokesman Colonel Turki al-Maliki said.
Initial reports said Tareq was killed in the fighting that erupted after Saleh called on the Saudi-led coalition to end the war, a move interpreted by the Houthis as a betrayal.
A coalition statement released later by the official Saudi Press Agency said the warplane that crashed was Saudi and that the operation to rescue the crew involved ground forces.
The finding is expected to bolster accusations from the U.S. and Saudi Arabia that Iran has supplied weaponry to the Huthis in their war against the Saudi-led coalition.
The report said the panel saw "no evidence" that either side took measures "to mitigate the devastating impact" of attacks on civilians.
The Saudi-led coalition joined the Yemeni government in its fight against the Huthis in March 2015, after the rebels seized control of the capital Sanaa.
The Houthis, who swept across Yemen and overthrew the internationally recognized government of President Abdu Rabbu Mansour Hadi in 2015, hold the capital, Sanaa, and much of northern Yemen, where most of the country's 25 million people live.
More than 10,000 civilians have been killed in fighting and airstrikes; more than 7 million are on the brink of starvation and over 19 million don't know where their next meal is coming from; medical infrastructure has collapsed; and a cholera outbreak has affected 1 million people.
"These (missile launch) are aimed at threatening the security of not only Saudi Arabia but also the region and the world as firing of ballistic missiles targeting densely populated cities and villages is contrary to global humanitarian law", he said in Riyadh.