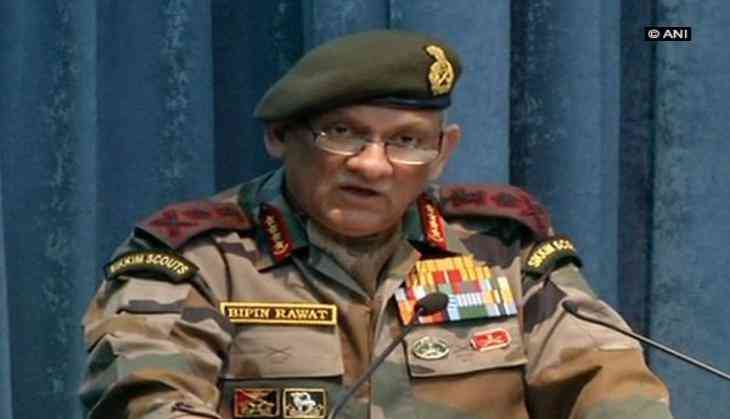 Chief of Army Staff General Bipin Rawat on Friday said that schools in Jammu and Kashmir are instilling wrong information into students' mind by showing them a separate map of their state and not as one Indian map.
"We have the possibility of more movements after the winter is over". We will not allow our territory to be invaded by anyone. "Should they (the Chinese) come in again, we will take a call on how to deal with it".
"China is a powerful country but we are not a weak nation..."
Since the killing of Hizb-ul-Mujahideen militant Burhan Wani in July 2016, Indian Army's counter-terrorism activities were focussed primarily in the four urban districts of south Kashmir. "The time has come for India to shift focus to its northern border", he said while adding that "the country was capable of handling China's assertiveness along it".
"Even if it would have escalated we were prepared (as) the terrain usually favours us".
Speaking on the recent cases of reported intrusion along the Line of Actual Control in Arunachal Pradesh, the Army supremo said that China is exerting pressure.
Army chief Bipin Rawat today said the threat of the use of Chemical, Biological, Radiological and Nuclear weapons, collectively termed as CBRN, was becoming a "reality", particularly from "non-state actors". "Dealing with ceasefire violations, LoC, terrorists, the Army has been told by the government to conduct operations as it deems fit", Gen Rawat asserted.
"Ceasefire violations have increased because Pakistan posts supporting terrorists are being destroyed", he said.
Amid aggressive Chinese efforts to increase its influence in the region, the army chief said that India can not allow its neighbours to drift away to China. "It is again and again asking for going back to the 2003 ceasefire because of the pain felt", the Army chief said.
Trump, in a tweet on January 1, attacked Pakistan saying that the USA has foolishly given them more than $33 billion in aid over the last 15 years, and got lies and deceit in return.