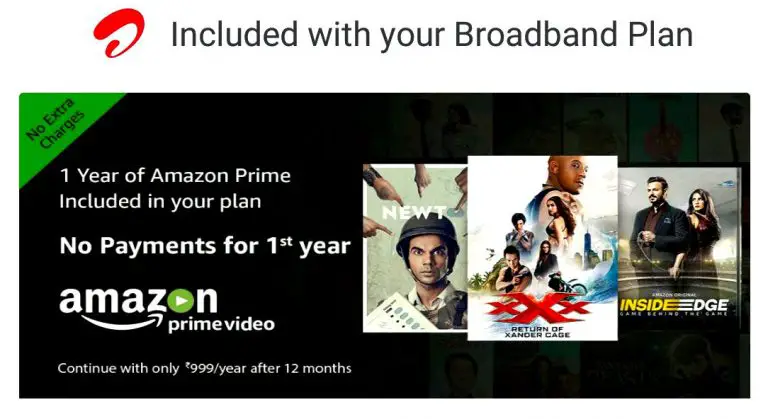 At Amazon Prime Video, we are focused on bringing the latest and exclusive content to India. Airtel is also extending the offer to its V-Fiber broadband customers who are on Rs 1,000 and above plans.
Amazon Prime, which offers its users services like free two-day shipping for certain purchases, unlimited streaming of movies and TV shows with Prime Video, has been attracting more subscribers every year.
This offer is only for Amazon users who do not have a Prime membership. Their Prime service offers better content as compared with Airtel's own Airtel TV and that of the competing telecoms. With Airtel TV, we are stepping up the value proposition and offering a complete digital entertainment experience to our Postpaid and Home Broadband users. If you are already a subscriber then you will have to wait for the ongoing subscription to end to avail the offer. In both cases, 12 months of subscription to Amazon Prime is given for free, but there will only be 9 months left if the subscriber activates the free service in April. For details on eligible plans, customers can visit www.airtel.in/broadband.
The offer can be availed by new and existing Airtel postpaid customers. Airtel says customers will not need to provide credit card or additional information during the signing up process. "This move enables seamless access to Amazon Prime for Airtel postpaid customers, providing a world of new video streaming content and more", Akshay Sahi, Director and Head of Amazon Prime India said. Airtel's Infinity Postpaid plans come with unlimited local, STD and national roaming calls along with data rollover facility and device protection.
Download the Airtel TV app from the App Store or Google Play Store.
Amazon Prime, which entered countries including Mexico, Netherlands, Luxembourg and Singapore previous year, now is present in 16 countries around the world.