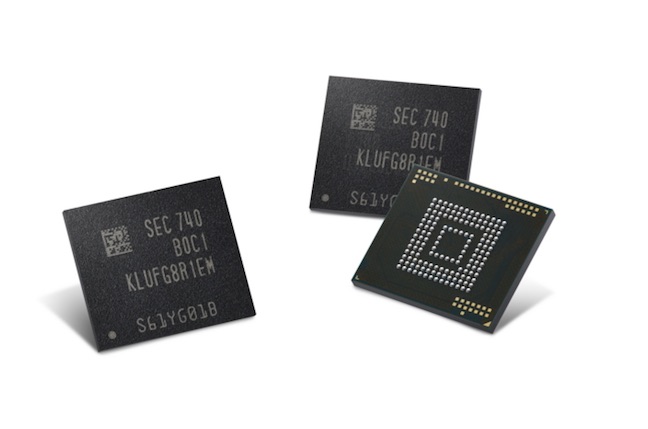 The chips should also have applications in cars, laptops, tablets, and other devices that need power-efficient, high capacity storage.
It is likely (though not confirmed) we could see this utilized in Samsung's forthcoming Galaxy S9 phones.
Samsung has announced that it is mass-producing the industry's first 512GB embedded Universal Flash Storage (eUFS) solution, leading many to believe that the Galaxy S9 will ship with the high-capacity module.
With Samsung's new 512GB eUFS storage, the South Korean company will soon be able to manufacture smartphones or tablets that have built-in flash storage that's the same as or even more than some desktop or laptop computers. Even though the 512GB eUFS solution contains 2x the number of cells as compared to a 256GB eUFS, Samsung states that the "inevitable increase in energy consumed" will be minimized by the 64-layer 512-gigabit V-NAND's "advanced circuit design" and new power management technology in the controller. It doubles the density of Samsung's previous 48-layer 256 eUFS chips and takes up the same amount of space.
Finally, Samsung noted that it intends to "steadily" increase production volume for its 64-layer 512Gb V-NAND chips, while continuing to expand its 256Gb V-NAND production.
The new solution will provide a huge boost for storage on flagship phones, as well as another product for the strong performing division of Samsung to continue growth. Entry-level Samsung flagship phones like the Galaxy S8 and Galaxy Note 8 come with 64GB of memory, but that might not be enough for some users.
For random operations, the new eUFS can read 42,000 IOPS and write 40,000 IOPS. With its sequential read and writes reaching up to 860 megabytes per second (MB/s) and 255MB/s respectively, the 512GB embedded memory enables transferring a 5GB-equivalent full HD video clip to an SSD in about six seconds, over eight times faster than a typical microSD card. However, if the company starts using this storage module, we may be facing the prospects of losing the microSD card slot. The top candidate right now is the Galaxy S9, which is expected to be Samsung's next flagship Android smartphone.