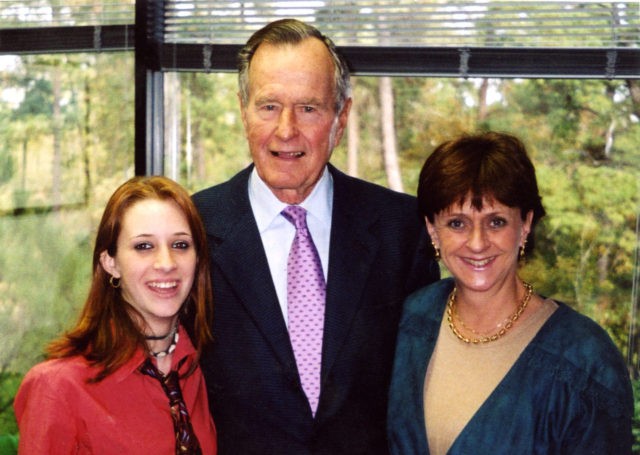 Former president George Bush senior has been accused by a sixth person sexual harassment, with a woman claiming she was groped at the 2003 event when she was 16. "I was like, 'Oh my goodness, what just happened?'"
Corrigan said she reacted with "absolute horror" but didn't say anything to Bush. But Bush was 79 years old at the time of Corrigan's alleged incident and not yet in a wheelchair, so she claims that "excuse for his senile, old man antics... is not true".
Roslyn Corrigan is the sixth woman to come forward with groping allegations against the former president, deciding to speak with TIME magazine about the alleged incident after hearing about his other accusers.
At the time of the Central Intelligence Agency event in November 2003, Bush was 79, and not confined to a wheelchair.
But Corrigan did tell her mother about the incident, and later told other friends and acquaintances about the incident over the years.
Bush's spokesperson, Jim McGrath, previously said that because Bush is confined to a wheelchair, his hands fall at the waists of those with whom he takes photos and that he "has patted women's rears in what he meant to be a good-natured manner".
A spokesman for the former president, Jim McGrath, says Bush has apologised "to anyone he may have offended during a photo op". "I was really, really confused", Corrigan added. Starstruck by Bush, the teenage political aspirant stood for a photo with him and her mother.
"To try to put people at ease, the president routinely tells the same joke - and on occasion, he has patted women's rears in what he meant to be a good-natured manner", McGrath previously said. However, Bush has only been in a wheelchair since 2012, and he is standing in the 2003 photo with Corrigan.
On Nov. 2 Laura Bush told CNN that the allegations against her father-in-law were "very innocent incidents".
Lind, Grolnick and Kline all said last month that they were groped by Bush while taking photos with him at events.
Corrigan says as the photo was being taken, Bush dropped his hand to her buttocks and squeezed.
The first was actress Heather Lind, who accused the former leader of touching her from behind and telling her a "dirty joke", while she was posing for a photo beside him in 2014. "And he didn't. All he did was grab my butt".