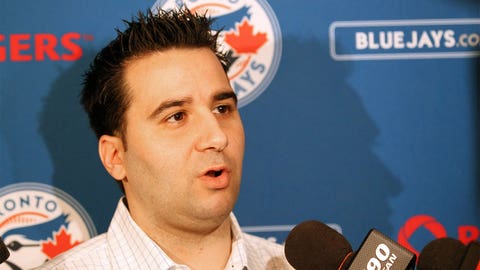 In regards to Hart's future, Bowman notes that since both Anthopoulos and Hendry are experienced general managers, either could take over the Braves' baseball ops department should Hart no longer continue with the organization.
The announcement of Anthopoulos's appointment will occur here at the GM meetings, perhaps as early as Monday, when the meetings begin.
The New York Post was the first outlet to report Anthopoulos' hire.
President of baseball operations John Hart is expected to remain in the organization but will do so in a diminished role, as Anthopoulos will have full decision-making power.
Special assistant and worldwide scouting supervisor Gordon Blakeley was also forced to resign along with Coppolella on October 2. Commissioner Rob Manfred will make the ultimate call on penalties.
Anthopoulos, the former Toronto Blue Jays GM, will be in charge of baseball decisions, according to person with knowledge of the hiring who is not authorized to speak publicly because the move hasn't been announced. As Sherman notes, however, the Braves' job "is viewed as attractive" around baseball due to the team's deep well of prospects, even despite the likelihood that MLB will level some type of punishment against the franchise. Sources say Coppolella has hired a lawyer, though he isn't speaking about the matter. Shapiro originally offered Anthopoulos a short deal to stay before upper management stepped in and offered about $10 million over five years; Anthopoulos left anyway.
Alex Anthopoulos is headed to A-Town. Though Blakeley soon rescinded his resignation, he has not continued as a Braves employee and met again last week with Major League Baseball offficials in NY as part of its investigation.