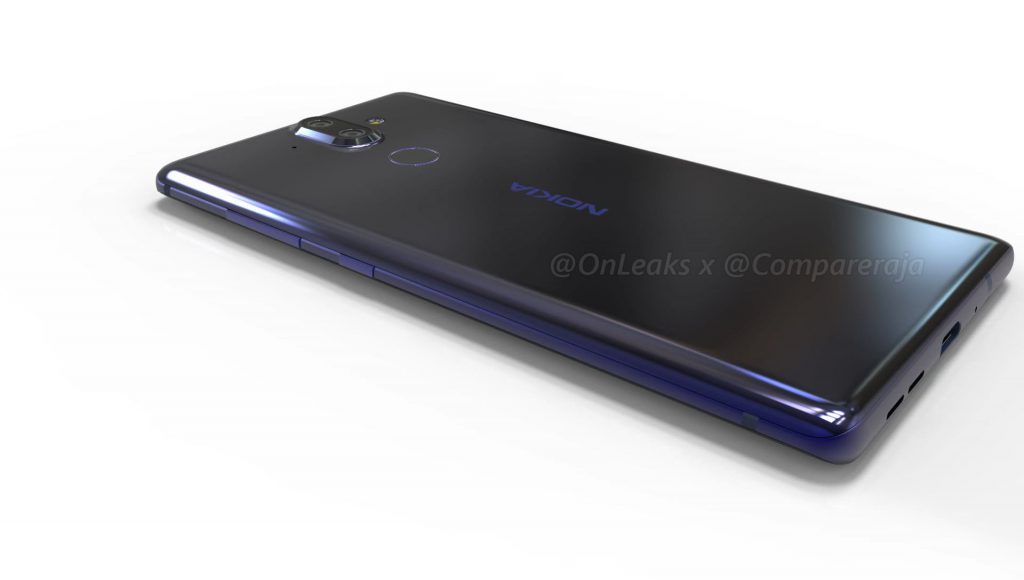 Except the Nokia 8, the rest of the Nokia smartphones are budget and mid-range smartphones. Now, renders of yet another Nokia smartphone have surfaced online. Let us know what you think of the design of the Nokia 9, and will you be willing to indulge this phone once it is out? It's a flagship smartphone and is called Nokia 9.
The renders are based on CAD files of the Nokia phone which means that the design can change. The placement of the dual cameras on the Nokia 9 are a bit peculiar.
It's got a curved display which has been largely exclusive to Samsung. Also, as the phone is having bezel-less design, the fingerprint scanner is moved to the back. The phone is said to come with a bigger 5.7-inch display that will be nearly be almost bezel-less.
The render comes courtesy of OnLeaks, who has a reasonable track record when it comes to leaking devices before they have been officially revealed to the public.
The Nokia 9 is expected to measure 140.9 x 72.9 x 7.5mm, with a thickness of 8.9mm where the camera is placed. Besides, the back of the phone also seems to be curved at the edges, which should help users hold it more comfortably. Another take away is that it doesn't have a headphone jack. The other thing to take from these renders is the apparent removal of the 3.5mm headphone jack, something that Google has recently done with the Pixel 2 smartphones.
There's a USB Type-C port on the bottom, and that's the only port on the phone.
In terms of innards, the Nokia 9 is said to be powered by Snapdragon 835 SoC that would be coupled with 4 GB RAM. Now, it looks like Nokia has finalised the design of it's upcoming high-end smartphone, the long-rumoured Nokia 9. The Nokia 9 is also expected to come with all the other usual Nokia features, like OZO audio and microphones for active noise cancellation.