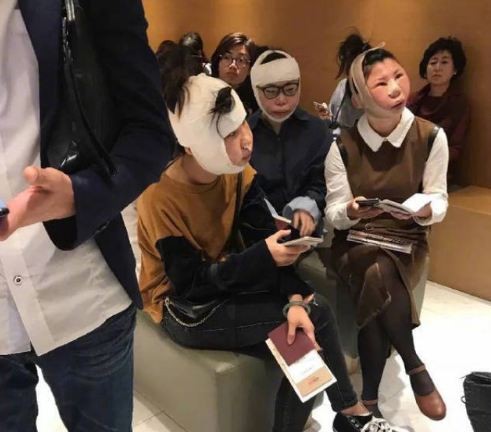 Three Chinese woman were detained in the airport after flying to South Korea to get plastic surgery.
The photo was first posted on Weibo by Chinese TV presenter Jian Hua Hua on Sunday (Oct 8).
The picture was said to be taken at one unnamed airport in South Korea during China's National Day holiday, according to Apple Daily.
As their faces were wrapped in bandages post surgery, the three women were unable to detained by immigration officers at passport control as their identified couldn't be matched.
South Korea has a booming and low-cost plastic-surgery industry complete with travel packages that include cosmetic treatments followed by safari trips in Africa, where people can heal - if they can make it past airport officials. In the caption, Jian wrote about a "plastic surgery army" spotted at a South Korean airport departure terminal, hk01.com reported.
Although South Korea used to be the top destination for Chinese tourists during Golden Week, according to Shanghaiist, this year's political events have seen numbers drop by 70 per cent, with Thailand becoming the new hotspot.
Well these women found to their cost that going away for a little surgery touch up can come with unexpected consequences. This isn't the first Golden Week travel problem, either; a year ago, 100 Chinese tourists spent up to five days of their holiday stranded in an airport, having been denied entry to South Korea's Jeju Island.