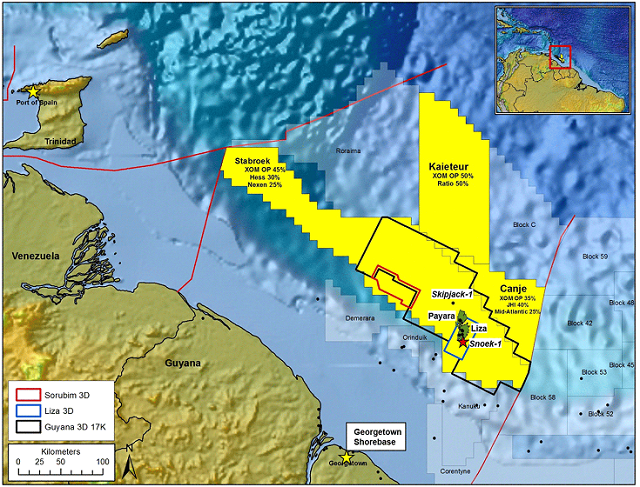 Exxon Mobil Corporation (NYSE:XOM) has green-lighted the Liza oil field development, offshore Guyana, where it intends to start production by 2020.
Exxon announced the first major oil and gas discovery in Guyana in May 2015.
"Development of the world class Liza resource with a low cost, phased approach accelerates first production and positions us to deliver significant value to our shareholders", CEO John Hess said. Hess also reported positive results from the Liza-4 well, which encountered more than 197 feet of high-quality, oil-bearing sandstone reservoirs and will underpin a potential Liza Phase 2 development. The government also has said it would invest in its military and build a 350-mile (565-kilometer) jungle road from the capital of Georgetown to northeastern Brazil, opening up Guyana's rugged, mineral-rich interior.
The Liza field is approximately 190 kilometers offshore in water depths of 1,500 to 1,900 meters.
The development should include four drill centres with 17 wells comprising eight production wells, six water-injection wells and three gas-injection wells.
The Liza field is part of the large Stabroek block, which is off a border region that is claimed by Guyana's neighbor, Venezuela, in a territorial controversy dating back more than a century.
Esso Exploration and Production Guyana Limited is continuing exploration activities and operates three blocks offshore Guyana - Stabroek, Canje and Kaieteur.
Esso Exploration and Production Guyana Limited holds a 45 percent stake in the Stabroek block, US oil producer Hess Corp holds a 30 percent interest and CNOOC Ltd owns 25 percent.
Hess Guyana Exploration Ltd. holds a 30 percent interest and CNOOC Nexen Petroleum Guyana Limited holds 25 percent.
Statements that reference future events or conditions in this press release are forward-looking statements.
"We now forecast the full development of Liza-Payara will produce over 330,000 b/d of oil at peak, with reserves of over 1.5 billion barrels of oil equivalent (bn boe)".